My nephew came to stay with us at the weekend and we decided to take him and Bob pony trekking. Bob has ridden a Shetland pony before but she has never been on a proper trek.
There is a place near us called Kilnsey Park and there is a trekking centre nearby. I rang up to book the shortest ride they did. As it was suitable for children aged 4 and above I thought the 30 minute ride would be the best one for Bob. They were almost fully booked but they managed to squeeze us in. We could only go on the 50 minute ride so I booked that and hoped she would be all right.
They had a wonderful time! My nephew loved it even though he was unsure when I first told him about it.
Bob loved it too! She wanted to get off about 10 minutes before the ride was over but we encourage her to stay on and she managed the whole thing!
I didn't have too many smiles on the trek as my nephew's pony almost pooed on me and Bob's pony stood on my foot. I also kept panicking about Bob falling off as she kept letting go of the reins.
It was lovely to see the children having a lovely time though and we were surrounded by beautiful countryside.
If you have written about something that made you smile or captured a photograph that melts your heart I would love it if you linked up below. Posts from your archives are welcome as long as they make you smile. 🙂
The linky will open on a Saturday and run for a week, so feel free to pop in at any time. I am happy to read happiness any day of the week.
If you don't have a blog and you would like to join in you can share your smiles on social media. On twitter & Instagram use the hashtag #shareasmile and tag me in the post so that I don't miss it. You could even share a smile in the comments section below or post one to my Facebook page if you prefer.
Looking forward to smiling with you. Smiles are contagious so it is better to share them than keep them to yourself!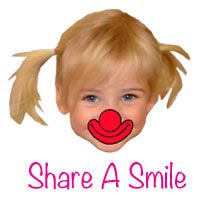 To read why I started this linky click here.
linking up to Country Kids. A linky all about outdoor fun.