Last weekend Skipton held it's annual gala. We only moved here at the end of last year so we weren't sure what to expect.
The fun started with a parade through the town centre. Lots of local businesses drove floats through the town and many people threw sweets out into the crowd. We happened to be surrounded by grown ups so Bob was very lucky! Whilst the children across the road were fighting over the sweets, the adults on our side were passing them to her. 🙂
Bob loved watching the parade and she especially loved all of the characters.
There was then a fair with some entertainment in Aireville Park. There was a jester who Bob thought was amazing! She sat for the first half an hour mesmerised by him.
We then watched some jousting.
Bob then chose which rides she would like to go on. I told her she was allowed to go on 5 things. She chose a Jake and the Neverland Pirates mini roller coaster which went very fast! I stood watching her in panic but Bob loved it!
She also went on a merry-go-round and a carousel.
She then decided she would prefer to have a go on the hook a duck and the assault course instead of going on some more rides.
She did really well on the assault course and ended up going around it twice. I was exhausted just walking around with her!
We had a lovely day and she keeps asking when we can go again. I have told her it only comes to town once a year and she is already counting the days. 🙂
If you have written about something that made you smile or captured a photograph that melts your heart I would love it if you linked up below. Posts from your archives are welcome as long as they make you smile. 🙂
The linky will open on a Saturday and run for a week, so feel free to pop in at any time. I am happy to read happiness any day of the week.
If you don't have a blog and you would like to join in you can share your smiles on social media. On twitter & Instagram use the hashtag #shareasmile and tag me in the post so that I don't miss it. You could even share a smile in the comments section below or post one to my Facebook page if you prefer.
Looking forward to smiling with you. Smiles are contagious so it is better to share them than keep them to yourself!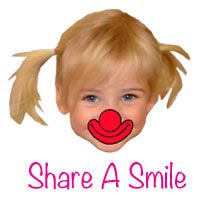 To read why I started this linky click here.