The time has passed when I can take gorgeous, natural photos of Bob. Now, whenever I produce the camera, she stares at it and shouts, 'Cheese!'
As I am now going to have to work harder to capture my photographs, I decided to be really brave! I turned the dial to manual!!! I have worked with the shutter speed and aperture settings independently but this was the first time that I have controlled both.
I wanted to create depth of field so I messed around with the settings for a while. Eventually it happened! Whether I used the correct settings or whether I was very lucky I do not know. I did, however, manage to capture a clear Bob and a blurred background over and over again. In the past I have managed to take one good shot and then failed to recreate the effect. Bob had pulled out her hair clip and wouldn't stop saying 'Cheese,' but look at the blurred background! 🙂
These photos were taken with an aperture of f5 and a shutter speed of 1/60. I'm not sure if this is right but it worked! 🙂 If any of you would like to share any tips they would be gratefully received!
This week I have really struggled to pick a Fun Photo Favourite! I was stuck between two posts. One was gorgeous and the other was amazing! In the end, I turned to you. Your 'likes' helped me to decide.
Lucy from Dear Beautiful Boy linked up a gorgeous post! It was beautifully written and the photographs were stunning! This post was a favourite of mine before she linked up and it still is!
As a reward Lucy can take me to see those beautiful beach huts! She can also display the Fun Photo Favourite badge if she wishes.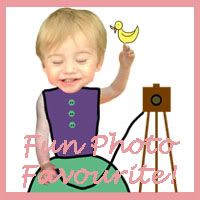 Congratulations are also in order as Lucy has added a Beautiful Girl to her family. She definitely lives up to her name. Congratulations hon!
*This linky is now closed. To see this week's Fun Photo Fun click here.
This is a Fun Photo Fun post, from a few weeks ago, which is perfect for this weeks See It, Snap It, Love It. This weeks theme is Smile and this post is all about how Bob smiles too much whenever I produce a camera! It was too perfect not to link up. Sorry it's not a photo that I have taken this week. Hope that's o.k.