Bob and I are reading The Wishing Chair together before she goes to bed. I love Enid Blyton and I love being able to share them with my daughter. She seems to enjoy each chapter and she understands that we can't read the whole book in one night.
She also doesn't seem to mind the lack of pictures. At first she would ask where the pictures were but I explained that you didn't get as many images in the more grown up books and you had to picture what was happening in your head. She would then shout out things like, 'I saw that cat,' and 'I can see the wings,' as I read the story.
She now understands the idea of the book and we read a chapter together each night. When I come to words that I know she will be able to read I let her sound them out. She seems to be enjoying the story so far.
I sometimes wonder if she is enjoying it as much as I am and I worry that a lot of it may go over her head. I also wonder if she is actually listening or just day dreaming. The other day I realised that she was listening and she is also following the story and remembering what has happened.
We were reading the chapter about The Windy Wizard. There is a bit that describes the atmosphere in the Wizards house. It isn't a very nice place to be as it is very windy the Wizards constantly has gusts around his neck and drafts down his legs.
We then turned the page and there was a image of the wizard. Bob looked at the picture and became confused. 'That's strange,' she said. I asked her what was strange and she answered, 'The wizard! His picture is all wrong! He doesn't have giraffes down his legs!'
If you have written about something that made you smile or captured a photograph that melts your heart I would love it if you linked up below. Posts from your archives are welcome as long as they make you smile. 🙂
The linky will open on a Saturday and run for a week, so feel free to pop in at any time. I am happy to read happiness any day of the week.
If you don't have a blog and you would like to join in you can share your smiles on social media. You can link up social media posts and use the hashtag #shareasmile on twitter & Instagram. Don't forget to tag me in the post so that I can shout about it for you. You could even share a smile in the comments section below or post one to my Facebook page if you prefer.
Looking forward to smiling with you. Smiles are contagious so it is better to share them than keep them to yourself!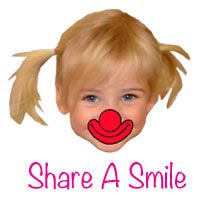 To read why I started this linky click here.