Our week has been full of smiles! It was Bob's 4th birthday on Monday and she has had a wonderful birthday week!
On Sunday we had a Disney Princess Party. We hired the village hall and I planned lots of activities for the children. I have so many photos and posts to share with you over the next couple of weeks. There was snowman building, tiara making, jewellery hunting, themed food and lots more. Watch this space!
Bob had an amazing time and on Sunday evening we let her open a couple of presents that she had been given at her party. I love how Bob opens presents. She cherishes every one and likes to play with I before she opens the next one. I love this about her! I have seen so many children rip the paper of their presents and then toss it aside to see what is next.
On Sunday evening my husband built Bob's new bike. This caused many smiles but Michael didn't find it very funny! He faced so many problems and also realised several solutions which could help other parents so I think the bike building may warrant a post of it's own.
On Monday morning Bob woke up very excited. We went downstairs and when she saw her new bike she was thrilled. Throughout the day she kept saying, 'Thank you so much for my new bike Mummy & Daddy!'
She had a wonderful morning opening her presents. Again she loved and appreciated every one! My husband got more impatient then she did and kept asking her if she would like to open something else. I told him off as I really do love this quality!
In the afternoon we went on a bike ride and Bob had lots of fun in the sand pit that my sister bought her.
I still can't believe that my baby girl is 4! It only seems like yesterday that we brought her home from the hospital!
In case you missed my video celebrating my gorgeous girl's 4th year here it is.
If you have written about something that made you smile or captured a photograph that melts your heart I would love it if you linked up below. Posts from your archives are welcome as long as they make you smile. 🙂
The linky will open on a Saturday and run for a week, so feel free to pop in at any time. I am happy to read happiness any day of the week.
If you don't have a blog and you would like to join in you can share your smiles on social media. On twitter & Instagram use the hashtag #shareasmile and tag me in the post so that I don't miss it. You could even share a smile in the comments section below or post one to my Facebook page if you prefer.
Looking forward to smiling with you. Smiles are contagious so it is better to share them than keep them to yourself!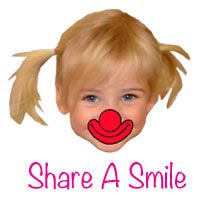 To read why I started this linky click here.