On Wednesday I went to watch Bob's nursery perform their summer concert. It had a fairy tale them me and they told us 3 stories, The Enormous Turnip, Goldilocks & the 3 Bears and The 3 Little Pigs.
Bob played The part of Goldilocks and I was so proud of her! I have a wonderful video of it but I can't share that with you as it has other children in and I don't have their parents permission. I did manage to snap this very zoomed in, blurry photo with my phone to give you an idea of how fabulous she looked!
She had to go to the bowls, the chairs and the beds (these were all played by children too which was so cute). She then reached the bears. When they growled at her Bob had to run away. She was brilliant!
Bob's nursery is wonderful, they go above and beyond the call of duty! This is the 3rd performance that they have put on and I have really enjoyed every one of them.
I will be sad to see Bob leave there in September! I can't believe that my baby is starting big girl's school! Where have the last 4 years gone?
If you have written about something that made you smile or captured a photograph that melts your heart I would love it if you linked up below. Posts from your archives are welcome as long as they make you smile. 🙂
The linky will open on a Saturday and run for a week, so feel free to pop in at any time. I am happy to read happiness any day of the week.
If you don't have a blog and you would like to join in you can share your smiles on social media. On twitter & Instagram use the hashtag #shareasmile and tag me in the post so that I don't miss it. You could even share a smile in the comments section below or post one to my Facebook page if you prefer.
Looking forward to smiling with you. Smiles are contagious so it is better to share them than keep them to yourself!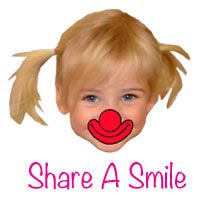 To read why I started this linky click here.