I am sorry that there was no Share A Smile last week. Last Saturday morning this happened.
I would like to introduce you all to Bow. This will be what are new addition will be called in our little corner of cyberspace.
Bob already had a nickname when I started my blog. She was called Bob from the day that I had my 12 week scan. Bob still gets called Bob in real life as many people have added it on to her first name since she was born.
It took me a while to decide on a nickname for our new addition. My main reason for calling him Bow is because he is a rainbow baby and we are so lucky to have him!
I also wanted a name that could be added on to his first name in the hope that it would stick like Bob. I don't think Bow will become his actual name as Bob has but it does sound nice added on to his first name and it is a cute thing to call him on my blog.
Also my Mum kept thinking we wanted to call him Alfie. Alfie is a lovely name but this has never been the plan. For some reason she was convinced and blamed Alfie Bow for the confusion. 🙂
We are all so in love with our new addition and we are enjoying settling in to life as a family of 4. Bob is already a wonderful, caring big sister!
When the haze and the traumatic flashbacks have lifted I will write about his birth. I also still have some pregnancy posts to publish so sorry if that is confusing! Don't panic I am not pregnant again! We are so in love and Bow is more than worth it but he will definitely be the last one! I thought that there was no way that this time could be worse than Bob's birth. I was wrong. Watch this space.
If you have written about something that made you smile or captured a photograph that melts your heart I would love it if you linked up below. Posts from your archives are welcome as long as they make you smile. 🙂
The linky will open on a Saturday and run for a week, so feel free to pop in at any time. I am happy to read happiness any day of the week.
If you don't have a blog and you would like to join in you can share your smiles on social media. On twitter & Instagram use the hashtag #shareasmile and tag me in the post so that I don't miss it. You could even share a smile in the comments section below or post one to my Facebook page if you prefer.
Looking forward to smiling with you. Smiles are contagious so it is better to share them than keep them to yourself!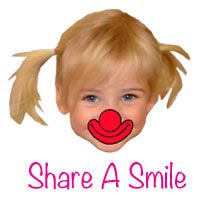 To read why I started this linky click here.