Last Saturday one of my best friends got married. It was a wonderful day and I was honoured to be a part of it!
I did very well considering I was 9 months pregnant but the aches and pains hit me and I had to leave at about 10.30pm. I wish I could have partied the night away!
I took over 150 photos! The reception was beautiful and so much thought had been put into the little details.
I don't have a photo of my huge bump in a bridesmaid dress to share with you yet and I will have to check with my friend before using photos of the happy couple (they are on their honeymoon at the moment). For now I wanted to show you some photos of the finer details that made the day so special!
Beautiful bouquets handmade by my friend.
Amazing bridal shoes.
Bridesmaid's shoes and underskirts.
Clara The Campervan.
Bunting & Bob.
Wedding teepees.
Woodland place settings
Beautiful blooms.
Toasting from a teacup.
Lovely little thoughts.
If you have written about something that made you smile or captured a photograph that melts your heart I would love it if you linked up below. Posts from your archives are welcome as long as they make you smile. 🙂
The linky will open on a Saturday and run for a week, so feel free to pop in at any time. I am happy to read happiness any day of the week.
If you don't have a blog and you would like to join in you can share your smiles on social media. On twitter & Instagram use the hashtag #shareasmile and tag me in the post so that I don't miss it. You could even share a smile in the comments section below or post one to my Facebook page if you prefer.
Looking forward to smiling with you. Smiles are contagious so it is better to share them than keep them to yourself!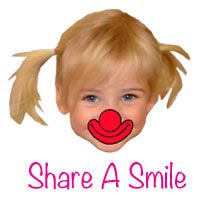 To read why I started this linky click here.