I am so proud of my little superstar!
This week was her school's nativity. Bob was off school ill all last week so she missed lots of the rehearsals. I went to watch the dress rehearsal on Monday and she was amazing!
She played a camel, had some lines and had to perform a song and dance. She was also giving a little duet in the final song, Away In A Manger.
You couldn't tell that she had missed rehearsals. She was one of the stars of the show! I wondered if I was biased but some other parents came up to me after the show and said the same.
I have watched the performance 3 times this week and I loved every minute of it. I have some lovely videos which I will treasure forever! Unfortunately I can't share them with you as they show other children.
If you have written about something that made you smile or captured a photograph that melts your heart I would love it if you linked up below. Posts from your archives are welcome as long as they make you smile. 🙂
The linky will open on a Saturday and run for a week, so feel free to pop in at any time. I am happy to read happiness any day of the week.
If you don't have a blog and you would like to join in you can share your smiles on social media. You can link up social media posts and use the hashtag #shareasmile on twitter & Instagram. Don't forget to tag me in the post so that I can shout about it for you. You could even share a smile in the comments section below or post one to my Facebook page if you prefer.
Looking forward to smiling with you. Smiles are contagious so it is better to share them than keep them to yourself!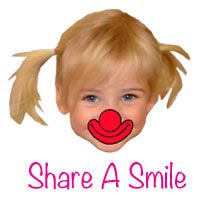 To read why I started this linky click here.