On Thursday we went to my grown up baby girl's first parents evening at school.
I was unsure what to expect. She can sometimes be a little madam at home but I only ever heard glowing reports from nursery. I used to pick up a highly praised angel who would have a melt down in the car soon after we had left. It was quite confusing.
Her teacher started by saying how lovely she was. I breathed a sigh of relief. She said she was a friendly little girl who was very popular. I already knew this as since Bob started school she knows so many people in the village. We have only lived here since April and she is like a local celebrity!
The teacher then showed us her learning development file. Bob was exceeding in all areas apart from writing which she was meeting all the requirements. She added that it was impossible to exceed in writing as they had recently changed the criteria and a child in reception would have to be able to write a story with a beginning, a middle and an end to do so. This is Year 2 work. Bob is the first one in her year that is able to blend sounds and she knows all the sounds that they have covered so far.
The teacher did nothing but smile throughout our meeting. She said that Bob could 'try it on' occasionally but she was pleased about this as she said it showed character.
She gave us Bob's Learning Journey to bring home to have a look at. These are my favourite photos.
I was really proud of our baby girl! It is scary to think how quickly she is growing up but wonderful to know she is doing it so well!
If you have written about something that made you smile or captured a photograph that melts your heart I would love it if you linked up below. Posts from your archives are welcome as long as they make you smile. 🙂
The linky will open on a Saturday and run for a week, so feel free to pop in at any time. I am happy to read happiness any day of the week.
If you don't have a blog and you would like to join in you can share your smiles on social media. On twitter & Instagram use the hashtag #shareasmile and tag me in the post so that I don't miss it. You could even share a smile in the comments section below or post one to my Facebook page if you prefer.
Looking forward to smiling with you. Smiles are contagious so it is better to share them than keep them to yourself!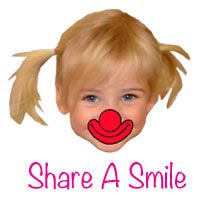 To read why I started this linky click here.