Don't worry, we have not got a completely different climate at our house. I am just so far behind with blogging that I am only just getting around to posting about our paddling pool fun in the lovely weather that we had weeks ago.
I have so many posts to share with you I just need to get my bottom in to gear! Hopefully I will be able to bring you up to date soon.
Bob loved playing with her slide and paddling pool and I loved trying to capture the water droplets. 🙂
We then had a well deserve Peppa Pig ice cream. 🙂
If you have been having fun with photography, editing or you've photographed something fun, please link up below. If you would like to grab my badge or add a text link it would be much appreciated. Also, if you would like to tweet me your links I would be happy to RT them.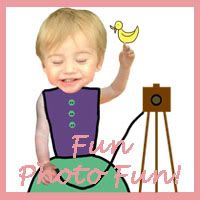 Linking up with some other Lovely Linkys.