I have got a new camera! How exciting!!! I loved my inbetweener. It took some fantastic photos and it helped me to learn the basics of shooting manually. It is a great camera for those that don't feel ready for an SLR. I feel that I have achieved all that I can with this camera and it's time for me to take the plunge.
It was very difficult to decide on a camera. There are many different makes and various models. In the end I chose a Nikon D5100 as this seemed like the camera for me. I have had lots of fun playing around with the camera and getting to grips with all of the buttons. There is so much to learn and I can't wait! I will share my journey with you and, hopefully, you will be able to see my photos improve.
I decided to photograph one of our favourite pastimes. Stealing Daddy's Pea pods! This is a daily occurrence and Bob runs straight for the plants the minute that we go into the garden. Luckily this is an activity where Bob sits relatively still so I had time to try out a few things. I enjoyed trying to capture depth of field, as this was something that I struggled with when I was using my Olympus.
Last week we had some lovely posts linked up. My Fun Photo Favourite has to be Ashley's post from Me And My Boys. There was so much fun in this post that I struggled to keep up! 😉 Here is an example of the fun they were having.
As a prize Ashley gets to be proud of the fact that baking trays around the world are now full of paint! 😉 She can also display the Fun Photo Favourite badge if she wishes.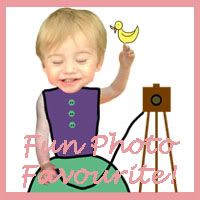 I hope that you have been having lots of fun this week! If you've enjoyed photographing, editing or if you've been captured the fun with your camera link up below. Remember to visit some of the other blogs in the linky to share some linky love.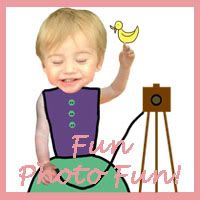 Happy Photographing and Happy Wednesday!!!
Linking up with some other lovely photo linkys.
The Paper Mama's Photo Challenge. This weeks theme is Green!!!