I had such a lovely time photographing Cyril, Cedrick and their mummy that I couldn't wait to have another photo shoot!
I have read that the best time to photograph new born babies is in the first 2 weeks of their life as they are still in the curled up sleepy stage at that point. Cedrick was 4 weeks and she was wide awake for the whole day. We managed to get some lovely photos but none of the curled up sleepy shots I had imagined.
I told a friend of mine that she would have to have another baby so that I could take some photos and she said that I would have to wait a long time. She had a friend that was due any day so she said that she would ask her if she wanted me to take some photos.
Her friend kindly agreed and I went to photograph her 2 gorgeous children. Her baby was just 2 weeks old at the time of the photo shoot and she was awake the whole time too. Maybe I am just too interesting. 😉 I still managed to take some lovely photos and I even captured one where it looks like she is smiling.
I have some more photos of these two lovely little ladies to share with you next week.
If you have been having fun with photography, editing or you've photographed something fun, please link up below. If you would like to grab my badge or add a text link it would be much appreciated. Also, if you would like to tweet me your links I would be happy to RT them.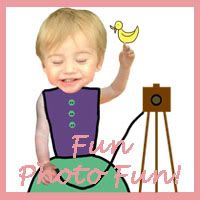 Linking up with some other Lovely Linkys.