This week Bob's nursery held a Mother's Day concert. It was wonderful!
The children sang lots of songs and a few children were shown to show a picture they had painted of their plummy whilst the head teacher read out something they loved about them.
Bob painted a lovely picture of me. The likeness is uncanny!
Each child then gave their mummy a present. It was a canvas which they had painted some flowers on. I loved mine!
I didn't manage to video Bob singing at the concert as she was at the back but I video her with her picture. It was tricky to edit as my camera work is terrible and I needed to cover up the faces of the other children. Bob also gave me my own personal performance of 'Love Is Something If You Give It Away.' This is adorable! She thinks the lyrics are '…you end up having Mum,' rather than more! This is so cute and very appropriate for Mother's Day!
Bob's nursery is wonderful! They go above and beyond the call of duty and I will be so sad when Bob has to leave! I can't believe she will be going to big school in September! Where has my baby gone?
If you have written about something that made you smile or captured a photograph that melts your heart I would love it if you linked up below. Posts from your archives are welcome as long as they make me smile. 🙂
The linky will open on a Saturday and run for a week, so feel free to pop in at any time. I am happy to read happiness any day of the week.
If you don't have a blog and you would like to join in you can share your smiles on social media. On twitter & Instagram use the hashtag #shareasmile and tag me in the post so that I don't miss it. You could even share a smile in the comments section below or post one to my Facebook page if you prefer.
Looking forward to smiling with you. Smiles are contagious so it is better to share them than keep them to yourself!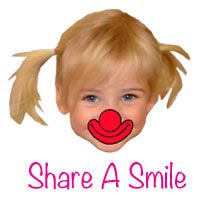 To read why I started this linky click here.