The other day we decided to get our act together and go and buy some things for our new addition.
We are so unorganised this time around! When I was pregnant with Bob we were so prepared this time we realised that there was only weeks to go and we had nothing ready.
The shopping trip didn't make me smile. It was a bit overwhelming at one point. Decisions and hormones really don't mix! It also didn't help that ladies who were hardly showing were there getting very organised. I even overheard one couple discussing how they should wait until they knew the sex until they bought a certain product. I felt terrible for leaving things late!
We managed to get most of the things we needed and Bob loved helping us to choose things for her baby brother.
When we arrived home we put the bags on the sofa and took the larger items upstairs. When I came back down Bob had laid out the items in front of the fire place. When she saw me she beamed and said, 'We are ready for my baby brother now!' It was so wonderful!
If you have written about something that made you smile or captured a photograph that melts your heart I would love it if you linked up below. Posts from your archives are welcome as long as they make you smile. 🙂
The linky will open on a Saturday and run for a week, so feel free to pop in at any time. I am happy to read happiness any day of the week.
If you don't have a blog and you would like to join in you can share your smiles on social media. On twitter & Instagram use the hashtag #shareasmile and tag me in the post so that I don't miss it. You could even share a smile in the comments section below or post one to my Facebook page if you prefer.
Looking forward to smiling with you. Smiles are contagious so it is better to share them than keep them to yourself!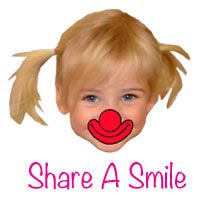 To read why I started this linky click here.