We have all been smiling from ear to ear this week. If you missed our little announcement yesterday here it is again.
🙂 🙂 🙂
I don't think that I fully believed that I was pregnant until I had my scan yesterday and now I have to get my head around the fact that I am almost 14 weeks!
We told Bob last night and she was over the moon! She kept talking about all the things that she was going to do for the baby. At one point she said, 'If it does a wee wee I will change it's nappy but if it does a poo you can change it.' Think she's got it all worked out! 🙂
Bob is desperate for a little sister. She keeps referring to the baby as 'her' I am worried if it is a boy she might want to send it back. 🙂
If you have written about something that made you smile or captured a photograph that melts your heart I would love it if you linked up below. Posts from your archives are welcome as long as they make you smile. 🙂
The linky will open on a Saturday and run for a week, so feel free to pop in at any time. I am happy to read happiness any day of the week.
If you don't have a blog and you would like to join in you can share your smiles on social media. On twitter & Instagram use the hashtag #shareasmile and tag me in the post so that I don't miss it. You could even share a smile in the comments section below or post one to my Facebook page if you prefer.
Looking forward to smiling with you. Smiles are contagious so it is better to share them than keep them to yourself!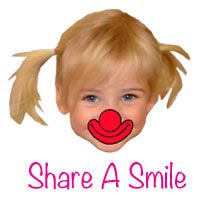 To read why I started this linky click here.
I've added this post to Linked.