On Sunday we went to Rufford Park with our friends. We had a lovely afternoon!
The part that I will remember for quite some time is when Bob found a tiny toad. She is used to seeing them as we had lots of them in our garden where we used to live. As this one was on it's own she felt an overwhelming urge to take care of it.
She was so caring and loving towards it!
She looked down at it like it was a tiny angel!
It was lovely to see her this way. It has reminded me what a wonderful big sister she will make! She is so caring and protective!
If you have written about something that made you smile or captured a photograph that melts your heart I would love it if you linked up below. Posts from your archives are welcome as long as they make you smile. 🙂
The linky will open on a Saturday and run for a week, so feel free to pop in at any time. I am happy to read happiness any day of the week.
If you don't have a blog and you would like to join in you can share your smiles on social media. On twitter & Instagram use the hashtag #shareasmile and tag me in the post so that I don't miss it. You could even share a smile in the comments section below or post one to my Facebook page if you prefer.
Looking forward to smiling with you. Smiles are contagious so it is better to share them than keep them to yourself!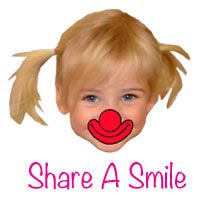 To read why I started this linky click here.
Linking up with Country Kids.