This week I am going to share a day full of smiles!
On Sunday my friend had her daughter christened and I had the honour of being her godmother.
I was overwhelmed when she asked me and over the moon. It took me a long time to write her christening card as I struggled to put into words how much it meant to me. I also wanted to let her know that I would always be there for her. I know she can't read it now but she will one day. I may have shed a little tear.
It was such a wonderful day! The church service was lovely and I felt so proud to stand at the front and be there for her!
She was so well behaved and didn't bat an eye lid when the vicar poured water on her.
We had a great celebration afterwards. Bob had an amazing time! The cake I made went down well and nobody spat it back out! 😉
The boys then went to the pub and my friend and I took the girls back to her house. They had a wonderful time playing whilst we had a take away and a good catch up.
My friend's daughter was full of smiles the whole day long even though her routine was interfered with.
We didn't set off home until 9pm and Bob didn't want to leave then. It really was a wonderful day!
If you have written about something that made you smile or captured a photograph that melts your heart I would love it if you linked up below. Posts from your archives are welcome as long as they make me smile. 🙂
The linky will open on a Saturday and run for a week, so feel free to pop in at any time. I am happy to read happiness any day of the week.
If you don't have a blog and you would like to join in you can share your smiles on social media. On twitter & Instagram use the hashtag #shareasmile and tag me in the post so that I don't miss it. You could even share a smile in the comments section below or post one to my Facebook page if you prefer.
Looking forward to smiling with you. Smiles are contagious so it is better to share them than keep them to yourself!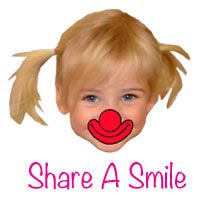 To read why I started this linky click here.
I have added my linky to Linked.