This week I realised that my little girl is so brave and even more of a super star than I thought!
The incident is not one to smile about but seeing how Bob handled it and how amazing she was is definitely a reason to smile!
We were sat having dinner on Tuesday evening. Bob had been back at nursery for the first day after the Easter holidays and she was quite tired. In our kitchen we have a table with a bench to sit on. As our dining table is not set up yet we have been eating all of our meals in the kitchen.
Bob was sat eating her fajitas when she disappeared. It was surreal! One minute she was there and the next she wasn't. She seemed to flip of the bench backwards.
I didn't see what happened after she fell as she was at the other side of the table but I knew she was upset so my first concern was to calm her down. I picked her up, gave her a big cuddle and started to talk to her.
It was then that I noticed the blood. It was all over her blonde hair. I realised that she must have banged her head on the skirting board.
My husband was in the car with the engine running almost as soon as he saw the blood. As the blood was sticking to her hair we couldn't see the damage. I decided to clean her up a bit first as I was hoping it wouldn't be as bad once the blood had been washed away.
I bathed her hair and as soon as I saw the cut I knew we had to go to A & E. Bob had settled by now and although she wasn't too keen on going to see the doctor she knew it was for the best.
We were only at A & E for 2 hours in total which I think is a record. Bob was seen by the triage nurse quickly and then we had to wait for her to be treated.
Bob had a great time with all of the toys in the waiting room. She made everyone smile as she was playing so lovely! She kept asking if we could come to the hospital again another day. I hope she doesn't get any ideas!
When it was Bob's turn to be seen she held my hand and bravely walked in to the room. She let the doctor look at her head it had been bleeding again so the doctor cleaned it up and Bob stayed very still.
He said it would need to be glued. I can't believe how far medicine has progressed! My sister cut her head when she was younger and she had to have stitches. She then had to go back again to have them removed. My nephew cut his head about 10 years ago. He had dissolvable stitches which my sister could bathe off. Nowadays they use glue. The glue forms a scab and you have to keep it clean and dry for a few days then the scab will fall of.
It looked quite painful as the doctor had to squeeze her cut together but Bob was so brave! She didn't even murmur! I was wincing away but luckily she couldn't see my face.
I am so proud of Bob! She was unbelievable brave! I don't think I would have handled the situation so well!
We had a quite few days and Bob learnt to milk her injury. When we got home from the hospital it was quite late and we allowed Bob to fall asleep on the settee so that we could keep an eye on her. The next night her daddy was late home from work. When I told Bob that he wouldn't be back before bedtime she said, 'That's alright. I will watch a film and fall asleep on the settee and then Daddy can carry me up to bed.'
That girl has me wrapped around her little finger!
If you have written about something that made you smile or captured a photograph that melts your heart I would love it if you linked up below. Posts from your archives are welcome as long as they make you smile. 🙂
The linky will open on a Saturday and run for a week, so feel free to pop in at any time. I am happy to read happiness any day of the week.
If you don't have a blog and you would like to join in you can share your smiles on social media. On twitter & Instagram use the hashtag #shareasmile and tag me in the post so that I don't miss it. You could even share a smile in the comments section below or post one to my Facebook page if you prefer.
Looking forward to smiling with you. Smiles are contagious so it is better to share them than keep them to yourself!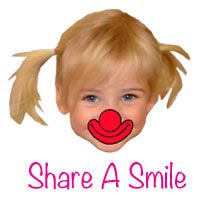 To read why I started this linky click here.