As today is my 1st Bloggoversary I thought that today's Fun Photo Fun should also include some video fun too as video making has become such a big part of my blog.
Yesterday we had snow and Bob and I had lots of fun playing in it. I only had my iPhone to hand and I must apologise for the wobbly bit in the middle of the video. I was trying to show Bob how to make snow angels from behind the camera. 😉
Here are a few photos and the video below shows just how much fun we had!
My Fun Photo Favourite from last week is this gorgeous photo from Teresa over at Nanahood. She has made me wish that I had done this last year! Not sure whether Bob would sit still long enough now that she's older.
As a reward Teresa can smile in the knowledge that I will be covering Bob in hearts and chasing her around the room. She can also display the Fun Photo Fun badge if she wishes!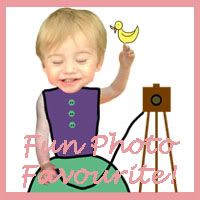 If you have been having fun with photography, editing or you've photographed something fun, please link up below. Make sure that you link up the post, rather than your home page as I struggle to find some of your posts when I am choosing a Fun Photo favourite. If you would like to grab my badge or add a text link it would be much appreciated. Also, if you would like to tweet me your links I would be happy to RT them.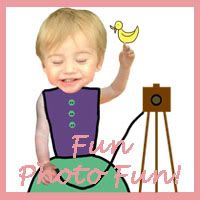 *By taking part in this linky you are giving me permission to show your photo next week, if it is chosen as my Fun Photo Favourite. I will, of course, link back to your blog.
Linking up with some other Lovely Linkys.
Also linking up with Country Kids.