I was quite excited about the snow when I was writing last week's Fun Photo Fun. We had a nice amount and it was exciting to watch Bob playing in it for the first time. (We had snow last year but she was too small to fully appreciate it.)
Since then it has snowed and snowed and snowed a bit more. I enjoy being out in the snow but not when it is falling. After waiting all yesterday morning for the snow to stop I finally made it outside with my camera. I was looking forward to taking some lovely photographs of Bob in the snow, armed with more than my iPhone.
It was so deep in our garden that Bob could only walk a few steps before falling over. She soon became frustrated and asked to go back inside. I managed to capture a few nice photos before we retreated.
I have enjoyed the snow but enough is enough!
It can come back next year though as I already have snow plans! When Bob is a bit older we are going to make this!
This amazing snow cat is by Emma over at My Little 3 and Me and it is my Fun Photo Favourite from last week! As a reward Emily can come and build a snow cat at our house. She can also display the Fun Photo Favourite badge if she wishes.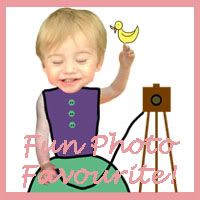 If you have been having fun with photography, editing or you've photographed something fun, please link up below. Make sure that you link up the post, rather than your home page as I struggle to find some of your posts when I am choosing a Fun Photo favourite. If you would like to grab my badge or add a text link it would be much appreciated. Also, if you would like to tweet me your links I would be happy to RT them.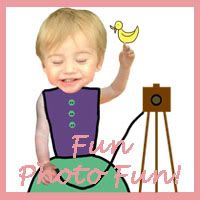 *By taking part in this linky you are giving me permission to show your photo next week, if it is chosen as my Fun Photo Favourite. I will, of course, link back to your blog.
Linking up with some other Lovely Linkys.
Also linking up with the lovely Coombe Mill and Country Kids.