Several weeks ago whilst we were fruit picking with our friends I noticed a giant dandelion clock. I am not sure that it was a dandelion clock as it was different to any I have seen before but the children couldn't resist trying to tell the time with it and I couldn't miss a photo opportunity! I think that everybody should have a photo of a toddler with a dandelion (or a strange plant that looks like one)! 😉
If you have been having fun with photography, editing or you've photographed something fun, please link up below. If you would like to grab my badge or add a text link it would be much appreciated. Also, if you would like to tweet me your links I would be happy to RT them.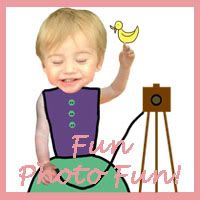 Linking up with some other Lovely Linkys.
[pinterest]