As the weather is turning nasty I thought that I would invest in some rainy day fun. Although Bob is still quite young she had lots of fun! She enjoyed sticking for a while and when she got bored she had fun exploring all of the textures and destroying my creations. She even helped to tidy up but I think that may have pushed her over the edge! 😉
It was a very hard decision choosing a Fun Photo Favourite last week! Lots of great photos were linked up and I can't wait to have a go at some of the photography styles that were used. In the end I decided on Carrie's lovely photos. Below is the photo that Carrie linked up but I think that my favourite had to be the one with all the balloons. I can't wait to photograph Bob with balloons because of it. Visit Carrie's lovely blog Days With Dylan And K.C. Sunshine to see the other adorable photos.
As a prize, Carrie gets to let me steal her idea. 😉 She can also display the Fun Photo favourite badge if she wishes.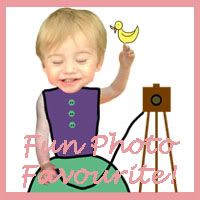 If you have been having fun with photography, editing or you've photographed something fun, please link up below. Make sure that you link up the post, rather than your home page as i struggle to find some of your posts when I am choosing a Fun Photo favourite. If you would like to grab my badge or add a text link it would be much appreciated. Also, if you would like to tweet me your links I would be happy to RT them.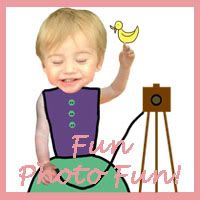 *By taking part in this linky you are giving me permission to show your photo next week, if it is chosen as my Fun Photo Favourite. I will, of course, link back to your blog.
Linking up with these other fab photo linkys.