We love fairies and we love making fairy gardens even more. We have recently reviewed the Unicorn Garden from Interplay. Bob loved it!
Imagine our delight when we heard that there was a new light up fairy garden! It has all of the fun of the original garden and it lights up. It would be lovely in a child's bedroom.
The new Fairy Light Garden is a wonderful grow and play set. The home of Fairy Belle and Fairy Elvie with Unicorn Foal and Hedgehog, it has wonderful secret spaces and cute accessory play pieces. The enchanted fairy mushroom home doubles as a night light. Simply blow on the magic candle through the window to make it light up. It also plays gentle harp music! The gentle illumination is the perfect nightlight and a great way to help children drift off to sleep.
Children will have great fun setting up the Fairy Light Garden and growing the grass to create a beautiful fairy home. It comes with grass seeds and everything you need to set up the garden – just add compost.
There is a secret tunnel and hidden home for the little hedgehog friend and a beautiful bridge that can connect to the other My Fairy Garden products.
Fairy Light Garden comes with lots of accessories:
* Fairy Garden Bowl
* Light-up Musical Fairy House
* Raised Growing Bed
* Raised Decking with Hedgehog House
* Fairy Heather Figure
* Fairy Evie Figure
* Hedgehog Figure
* Unicorn Foal Figure
* Fairy Mushroom
* Fairy Bridge with Flowers
* Posts with Cords & Bunting Sticker Sheet
* Packet of Grass Seeds
* Coloured Gravel
* Fairy Dust in Vial
* Fairy Flowers
* Colour Activity Booklet
To celebrate the release I have 2 Fairy Light Gardens to giveaway. There are many ways to enter using the Rafflecopter below. Good luck!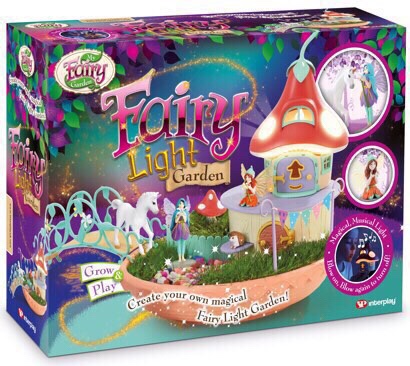 Fairy Light Garden is available for around £29.99rrp from Debenhams, Very, Littlewoods, Amazon.co.uk and many more retailers