When the Lovely Lucy from Dear Beautiful contacted me about being part of a family portrait project I was very excited!
The point of the project is to take a photo of your family, including yourself, once a month. I thought that this was a lovely idea as I don't have any photos of the 3 of us. I used the project as an excuse to buy a remote control for my camera and I couldn't wait to start snapping.
As I began trying to take a photo of all 3 of us I realised why I didn't have any! I thought that photographing Bob was a challenge since she has been on the move but that was a doddle compared to this. Not only did I have a hyperactive Bob I also had a husband that gets bored easily and a sleep deprived me who is beginning to resemble Father Jack!
Our little photo shoot may have been stressful but it was also a lot of fun! We read stories to keep Bob in the shot, we tickled her to make her smile and we piled on top of Daddy just because we could.
Eventually I captured this one. I think this is my favourite.
My little family. 🙂
There are 7 of us involved in the family photo project and we have linked up in a big circle so that you can travel around all of our posts. From here you can visit Lauren from Real Housewife Of Suffolk County and read her post. If you keep following the links you will view all of our posts and end up back here. How cool is that?
When Lucy first mentioned her idea a lot of interest was shown so it was decided that we would make the project a Linky. If you would like to share photos of 'You & Yours' you can join in!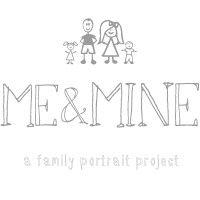 I look forward to reading your posts and seeing what you and your family have been up to.
Click here to enter your link.