My baby girl started school on Wednesday and, although it made me sad at the time, it is definitely a reason to smile. She is growing into a wonderful little lady and she makes me proud every day!
I think she is enjoying her new school. She is happy to go back the next day so I am taking that as a good sign.
She hasn't told me much about her days. On Wednesday she told me what she had for lunch and snack. Then on Thursday morning she said she had to wear her bow pinafore as one of the older girls was going to wear their bow pinafore and they wanted to match. This was confirmed when we arrived at school. The girl's mummy said she wouldn't get dressed unless she could wear her bow pinafore like Bob. She is setting trends already. 🙂
On Thursday her teacher said how she was very impressed with Bob's listening. Apparently she had won all of the listening games. I think Bob must exhaust her listening powers by the time she gets home.
She went skipping into school this morning and I am sure she is having a lovely day! Her 1st day of school seems like a long time ago! It's hard to believe that it was only two days ago.
If you would like to see more photos of her 1st day, find out what Bob wants to be when she grows up and read the letter that I wrote to my baby girl on her 1st day of school click here.
If you have written about something that made you smile or captured a photograph that melts your heart I would love it if you linked up below. Posts from your archives are welcome as long as they make you smile. 🙂
The linky will open on a Saturday and run for a week, so feel free to pop in at any time. I am happy to read happiness any day of the week.
If you don't have a blog and you would like to join in you can share your smiles on social media. On twitter & Instagram use the hashtag #shareasmile and tag me in the post so that I don't miss it. You could even share a smile in the comments section below or post one to my Facebook page if you prefer.
Looking forward to smiling with you. Smiles are contagious so it is better to share them than keep them to yourself!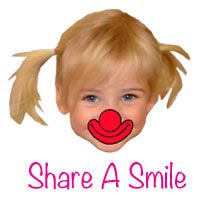 To read why I started this linky click here.