I thought that I would continue on from last week's post for this week's Fun Photo Fun. I mentioned that we found the giant dandelion when we were fruit picking so I thought I would share some photos from our harvest with you too.
We had wanted to go strawberry picking but we were too late. There were many fruits waiting to be collected though, cherries raspberries, gooseberries, tayberries and worcesterberries.
Bob and her friend found tasting the fruit too tempting so I didn't think I would manage to make a dessert out of our harvest.
Luckily we had raspberries in our garden so we could continue picking at home. We then washed our fruit which was a bit pointless as they had eaten so many whilst picking but it was lots of fun.
If you have been having fun with photography, editing or you've photographed something fun, please link up below. If you would like to grab my badge or add a text link it would be much appreciated. Also, if you would like to tweet me your links I would be happy to RT them.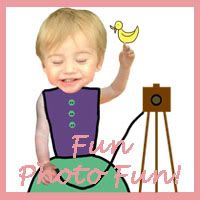 Linking up with some other Lovely Linkys.